Prescription Drugs in our Watersheds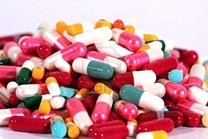 A nationwide study found low levels of pharmaceuticals in 80 percent of the rivers and streams sampled.
Traces of pharma drugs have been found in the drinking water supplies of some 40 million Americans.
We can do more to stop this form of water pollution and also protect our children from obtaining drugs in the home.
Proper disposal is a key component. Watch for updates on local drug take-back days on the main page of this web site.
More information from the US EPA about proper drug disposal may be found here:
---
http://water.epa.gov/scitech/swguidance/ppcp/upload/ppcpflyer.pdf
The River Guardian Foundation is a proud partner organization in North Carolina Operation Medicine Cabinet.