Concentrated Animal Feeding Operations (CAFOs)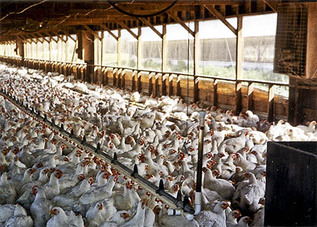 What is a CAFO? Large, corporate contracted farms have gradually replaced many small family farms over the last few decades. These facilities are typically large-scale industrial agricultural facilities that raises animals, usually at high-density, for the consumption of meat and eggs. The federal Clean Water Act identifies "feedlots" as "point sources" for pollution. A permit program entitled the National Pollutant Discharge Elimination System (NPDES) was created by the US EPA which set effluent limitation guidelines and standards for CAFOs, but the specifics were challenged and in a Court of Appeals decision required alteration to the CAFO permitting system. The outcome was that only CAFOs which discharge or propose to discharge waste had to apply for permits. The majority of CAFOs do not fall into this category but still generate large amounts of waste that eventually finds its way into the air and water.
---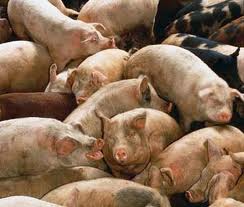 Depending on the type and number of animals in the farm, manure production can range between 2,800 tons and 1.6 million tons a year (Government Accountability Office [GAO], 2008). Large farms can produce more waste than some U.S. cities—a feeding operation with 800,000 pigs could produce over 1.6 million tons of waste a year. Annually, it is estimated that livestock animals in the U.S. produce each year somewhere between 3 and 20 times more manure than people in the U.S. produce, or as much as 1.2–1.37 billion tons of waste (EPA, 2005)Though sewage treatment plants are required for human waste, no such treatment facility exists for livestock waste. Ground application of untreated manure is one of the most common disposal methods. umping liquefied manure onto spray fields,When manure is applied too frequently or in too large a quantity to an area, nutrients overwhelm the absorptive capacity of the soil, and either run off or are leached into the groundwater. Storage units can break or become faulty, or rainwater can cause holding lagoons to overflow.All of the environmental problems with CAFOs have direct impact on human health and welfare for communities that contain large industrial farms.
Groundwater -Groundwater can be contaminated by CAFOs through runoff from land application of manure, leaching from manure that has been improperly spread on land, or through leaks or breaks in storage or containment units. The EPA estimates that 53% of the population relies on groundwater for drinking water, often at much higher rates in rural areas. Unlike surface water, groundwater contamination sources are more difficult to monitor. Contaminated groundwater can move laterally and eventually enter surface water, such as rivers or streams.

Surface Water - This pollution can be caused by surface discharges or other types of discharges. Surface discharges can be caused by heavy storms or floods that cause storage lagoons to overfill, running off into nearby bodies of water. Pollutants can also travel over land or through surface drainage systems to nearby bodies of water, be discharged through manmade ditches or flushing systems found in CAFOs, or come into contact with surface water that passes directly through the farming area.

Air Quality - Animal feeding operations produce several types of air emissions, including gaseous and particulate substances.The most typical pollutants found in air surrounding CAFOs are ammonia, hydrogen sulfide, methane, and particulate matter, all of which have varying human health risks. There is consistent evidence suggesting that factory farms increase asthma in neighboring communities, as indicated by children having higher rates of asthma

Greenhouse Gas and Climate Change - CAFOs also emit greenhouse gases, and therefore contribute to climate change. The EPA attributes manure management as the fourth leading source of nitrous oxide emissions and the fifth leading source of methane emissions (EPA, 2009)

Odors - One of the most common complaints associated with CAFOs are the odors produced. The odors that CAFOs emit are a complex mixture of ammonia, hydrogen sulfide, and carbon dioxide, as well as volatile and semi-volatile organic compounds (Heederik et al., 2007). These odors are worse than smells formerly associated with smaller livestock farms.

Insect Vectors - CAFOs and their waste can be breeding grounds for insect vectors. Houseflies, stable flies, and mosquitoes are the most common insects associated with CAFOs

Pathogens - Pathogens are parasites, bacterium, or viruses that are capable of causing disease or infection in animals or humans. The major source of pathogens from CAFOs is in animal manure. There are over 150 pathogens in manure that could impact human health. Many of these pathogens are concerning because they can cause severe diarrhea.

Antibiotics - ntibiotics are commonly administered in animal feed in the United States. Antibiotics are included at low levels in animal feed to reduce the chance for infection and to eliminate the need for animals to expend energy fighting off bacteria, with the assumption that saved energy will be translated into growth. The main purposes of using non-therapeutic doses of antimicrobials in animal feed is so that animals will grow faster, produce more meat, and avoid illnesses. There is strong evidence that the use of antibiotics in animal feed is contributing to an increase in antibiotic-resistant microbes and causing antibiotics to be less effective for humans

Property Values - Most landowners fear that when CAFOs move into their community their property values will drop significantly. There is evidence that CAFOs do affect property values. The reasons for this are many: the fear of loss of amenities, the risk of air or water pollution, and the increased possibility of nuisances related to odors or insects. CAFOs are typically viewed as a negative externality that can't be solved or cured. There may be stigma that is attached to living by a CAFO.


---